Texarkana College TRIO Program Mobile Unit
Community Events
Oct 22, 2020
---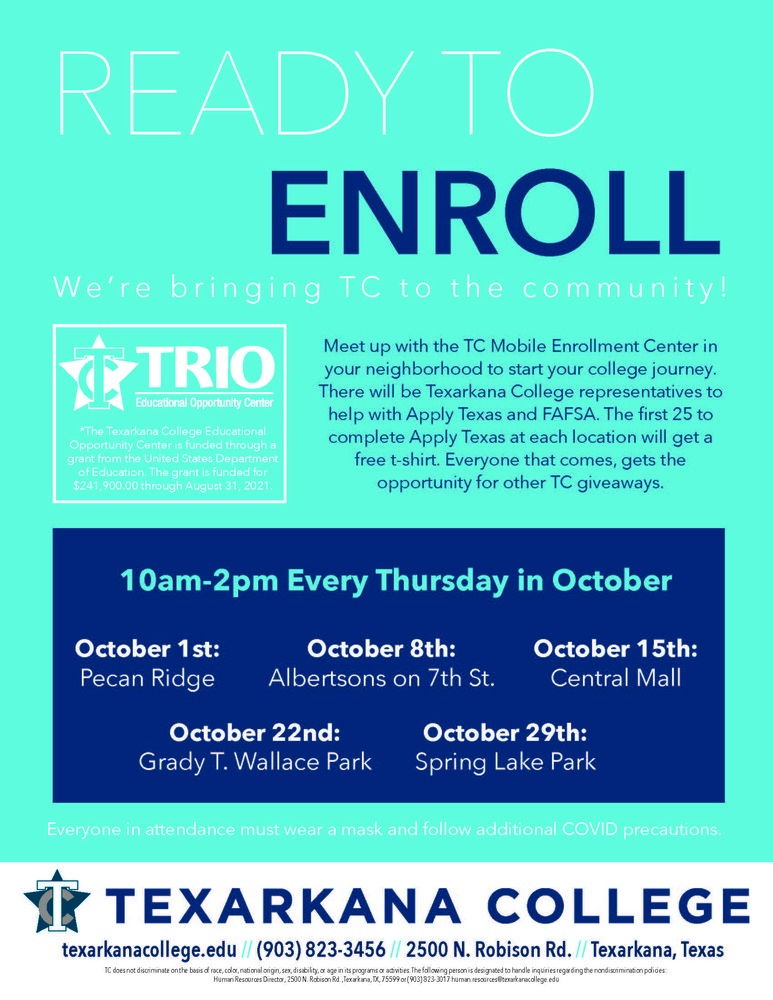 READY TO ENROLL
We're bringing TC to the community!
Meet up with the TC Mobile Enrollment Center in your neighborhood to start your college journey. There will be Texarkana College representatives to help with Apply Texas and FAFSA. The first 25 to complete Apply Texas at each location will get a free t-shirt. Everyone that comes, gets the opportunity for other TC giveaways.
Everyone in attendance must wear a mask and follow additional COVID precautions.
*The Texarkana College Educational Opportunity Center is funded through a grant from the United States Department of Education. The grant is funded for $241,900.00 through August 31, 2021.
10am-2pm Every Thursday in October
October 1st: Pecan Ridge
October 8th: Albertsons on 7th St.
October 15th: Central Mall
October 22nd: Grady T. Wallace Park
October 29th: Spring Lake Park
TC does not discriminate on the basis of race, color, national origin, sex, disability, or age in its programs or activities. The following person is designated to handle inquiries regarding the nondiscrimination policies:
Human Resources Director, 2500 N. Robison Rd., Texarkana, TX, 75599 or (903) 823-3017

texarkanacollege.edu // (903) 823-3456 // 2500 N. Robison Rd. // Texarkana, Texas