Resources
COVID-19 Resources
COVID-19 Vaccines for Children and Teens | CDC

Using Your Self-Test |COVID-19|
Follow instructions very carefully
Use the QR Code below for more information about self-testing and how-to videos.
If your results are positive:
If you are at an increased risk of becoming severely ill, treatment may be available. Contact your health care provider right away if your test result is positive.
Go to CDC.gov/Coronvirus for more information.
Help Protect Yourself and Others |COVID-19|
Stay up to date on COVID-19 vaccinations
Wear a mask indoors when the COVID-19 Community Level is high
Avoid crowds and poorly ventilated spaces
Test to prevent spread to others
Wash your hands often
---
The Rosehill Neighborhood Network Center offers many resources for resident clients. Located at 2220 W. 15th Street, Texarkana, TX. Call for details at 903.255.7738.
Monday Connections – Join us once a month for FREE computer skill sessions.
Free Career Closet - View Flyer
Free Computer Tutorials for you to use at your own pace (computer basics, work and career, Photoshop, Microsoft Office 2000 – 2016, mobile device tips, and more)
---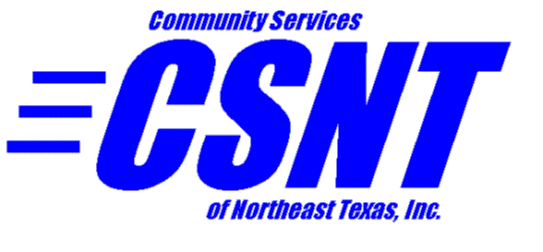 The Community Services of Northeast Texas (CSNT) office, located at 1611 N. Robison Road in Texarkana, Texas, is accepting applications for utility assistance.
Applications are available to be picked up in person at 1611 N. Robison Road Monday thru Thursday between the hours of 9:30 am and 11:30 am only. No exceptions.
Applications are continuing to be processed in the order in which they are received.
An application is also available online and may be downloaded by visiting the website at www.csntexas.org. The completed application and all required documentation should be mailed to the following address:
Community Services of Northeast Texas, Inc.
P.O. Box 427
Linden, Texas 75563
Please call CSNT at 903.838.0746 or 903.838.0747.
The Housing Authority of the City of Texarkana, Texas (HATT) does not accept any calls on behalf of the CSNT.
---
Visit SeniorHousing.net for information about Care Resources.
---
1st Choice Pregnancy Center
602 Main Street, Texarkana, TX 75501
903.792.5735
1st Choice Pregnancy Resource Center offers:
FREE Services Available

Pregnancy testing and verification
Confidential "Peer Counseling"
Limited Ultrasounds
Confidential Adoption Referrals
Variety of Classes
Earn "Baby Bucks" to spend in the Baby Boutique
SINGLE PARENT SUPPORT
We have a collection of classes specifically designed to support single parents. These classes are not taught in person but are available.
Co-parent Communication
Meetings & Handling the Handoff
6 Risks for Children After Divorce
Dating & Remarriage
Abuse, Addiction & Abandonment
Beyond Child Support
Holidays, Special Occasions & School
POST-ABORTION RECOVERY
Contact us to enroll in this class. All inquiries are confidential.
Are you suffering in silence from a past Abortion? Are you ready to be set free?
Our passion is to help women and men who may be struggling with a past abortion decision. We want to help reclaim and restore any lost peace of mind or self-worth. You do not have to go through the healing process alone.
We do not judge. We listen. We are here to help.
WE ACCEPT DONATIONS!
Contact us with any questions.
Our Mommy Store Program is made possible by the generous donations provided by locals. We accept children's clothing and shoes (new and used) up to size 3t. We accept baby items in good condition and maternity clothing for moms! Yes, we accept leftover diapers too!
WE LOVE VOLUNTEERS
We have many opportunities to serve at the center.
Here are a few ideas:
Facilitate a class
Administrative Duties
Help with Fundraising
Interning
Social Media Assistance
Lawn Care
Peer Counseling Support
Help in Mommy Store
PLACED ON BED REST?
We may be able to assist you with classes even if you cannot attend class in person. Contact us today to explore your options.
WE ARE NOT A CPS CLASS PROVIDER
We do not have any partnerships or affiliation with Child Protective Services or the Texas Department of Family and Protective Services. Our classes are not designed to meet any court requirements. We can provide information for CPS classes held at other locations, however.
We are unable to provide childcare, so please make other arrangements for your children during class.
Classes are taught by staff and volunteers who have a passion for mothers, fathers, and children. We have classes for dads too! We do not provide classes for C.P.S.
CLASSES at 1st Choice PRC
Our classes are designed to follow you through every stage of your pregnancy and beyond.
Classes cover pregnancy, preparation for childbirth, special needs of newborns, baby care, parenting techniques for toddlers, and more. We even have a class just for dads. First come first served.
We also provide have a collection of classes that include special topics such as life skills, special circumstances including domestic violence and preventing sexual behavior, and more. These classes are not taught in person but are available for those interested. Contact us today to enroll!
PREGNANCY CLASSES - Tuesdays at 10:30 AM
This class covers the 1st, 2nd, and 3rd trimester of pregnancy leading up to our Prepared Childbirth Class. We cover topics like prenatal care, bonding, nesting, breastfeeding, postpartum depression, and more!
PREPARED CHILDBIRTH CLASSES
Certified Childbirth Instructor on Thursdays at 5:30 PM
This class covers a variety of topics including:
Coping with the discomforts of pregnancy
The importance of a healthy lifestyle during pregnancy
When to go to the hospital
Comfort measures to use in labor at home and in the hospital
Feeding
Infant safety
How to calm a crying baby.
DADDIES ONLY - Thursdays at 5:30
Your life is about to change! Sometimes new fathers don't get the support they need to be great at being a dad. Come find out just how much and what you can do to get ready for parenthood. Find out what it takes to be called "Daddy." This workshop is taught by dads for dads.
No Mommies Allowed!
BABY CARE CLASSES - Tuesdays at 1:00 PM
Would you like to brush up on your infant care skills before your little bundle of joy arrives? Are you a new parent who would like to learn more about how to care for your baby? This class covers the physical, mental and emotional needs of babies 0-12 months.
TODDLER CLASS - Thursdays at 1:00 PM
If your child is between 1-3 years old, you will benefit from attending and learning at these classes. They can help you and your child in many different areas of your lives as your relationship grows.=
The classes include
Play & Milestones
Raising Emotionally Healthy Children
Discipline
Health & Safety
Potty-Training
Nutrition
To learn more about these topics, make plans to attend.
How to earn a FREE...
Pack-N-Play

Complete 6 In-Person Prepared Childbirth Classes

Car Seat

Complete 6 Pregnancy Classes In-Person

High-Chair Booster Seat

Complete 6 In-Person Toddler Classes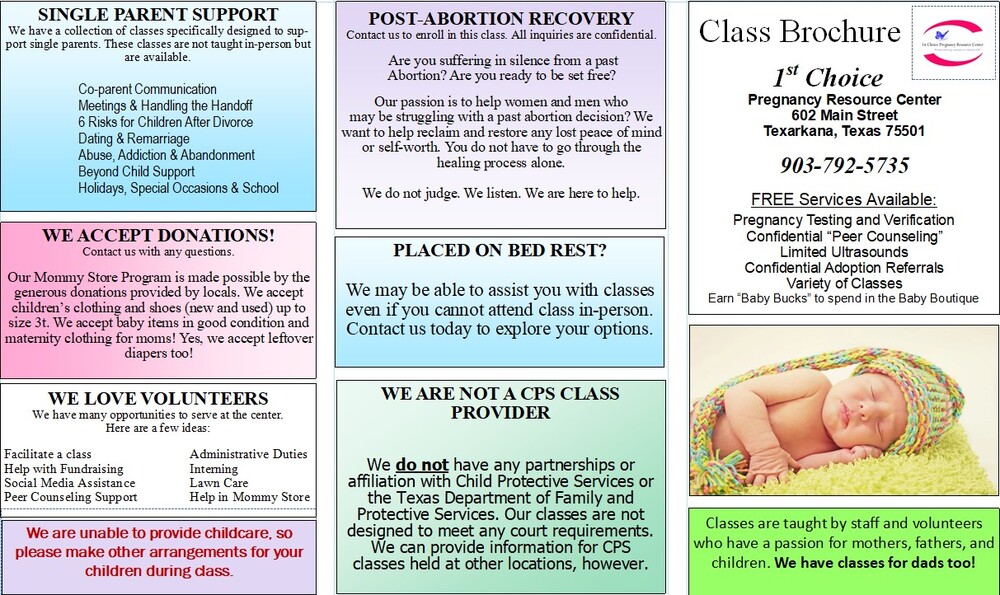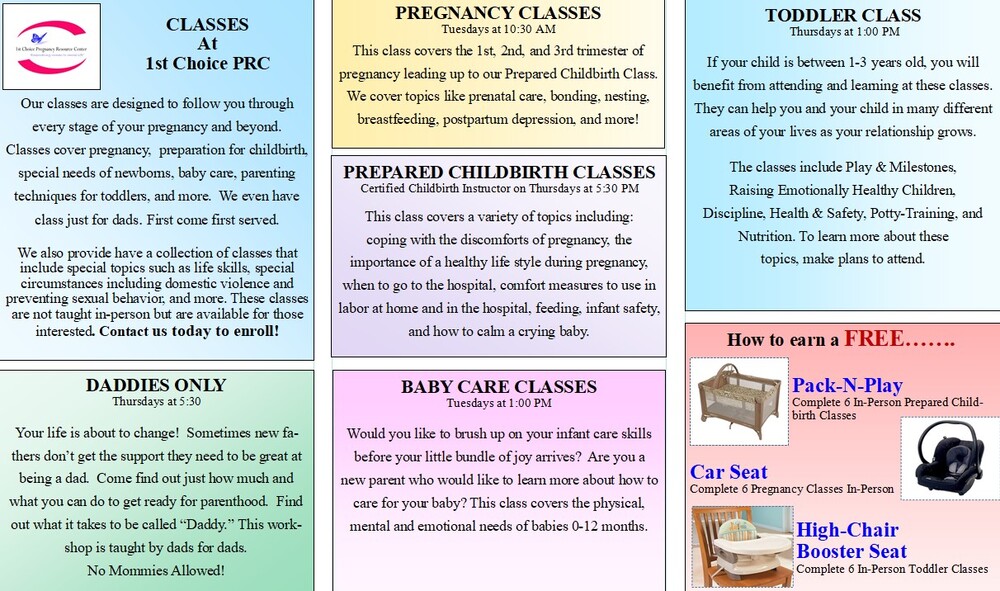 For more information, visit the 1st Choice Pregnancy Resource Center Page.
Visit their website here.
---
Texarkana Adult Education & Literacy offers:
TxCHSE – Texas High School Equivalency (GED)
College Prep – Basic Skills (Math & English) – TSIA, TABE, TEAS
ESL – English as a Second Language
IET – Integrated Education and Training – Work on a High School equivalency and enroll in a college workforce program at the same time.
For More Info: 903.823.3461 or email or View Flyer
---
Educational Opportunity Center
Helping over 1,831 students START at the college, university, or vocational school of their choice.
We Assist With:
College Admission Applications
Financial Aid Applications (FAFSA)
Scholarship Navigation
Academic and Career Exploration
GED Completion
College Success Strategies
Entrance Examination Fee Payment
Let us help you START!
www.texarkanacollege.edu/eoc