10/28/2019

Holiday Step Show 19 - Sunday, November 3rd - Tickets Available

Thirty (30) complimentary tickets will be available on a first-come, first-served basis to HATT residents that are high school aged students that want to attend the event.
Those wishing to attend must notify and pick up the ticket at the HATT by calling 903-838-8548 ext. 106 no later than 4:00pm on Thursday, October 31, 2019.
More information about the event is listed below: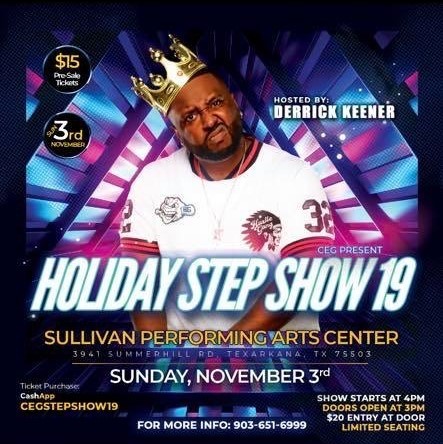 CEG Presents: Holiday Step Show 19
Hosted by Derrick Keener
Sullivan Performing Arts Center
3941 Summerhill Rd., Texarkana, TX 75503
Sunday, November 3rd
Show Starts at 4PM, Doors Open at 3PM, $20 Entry at Door, Limited Seating
$15 Pre-Sale Ticket Purchase: CashApp - CEGSTEPSHOW19